Outdoor Sun Shade Temporary Tent Provide A Comfortable Waiting Area
Views:10 Author:LPOUTDOORS Publish Time: 2018-06-23 Origin:Site Inquire
In response to the peak holiday travel period and the pressure on station ticketing staff, LP provided temporary tents to the railway bureau to solve the problem of passenger placement at the station and to ease the pressure on ticketing sites.

In order to allow passengers have a safe and comfortable waiting environment during the peak period of travel, to avoid the long queues of tickets purchased by wind and sun, LP Outdoors provided 10X30m temporary ticket booking tents and 20x35M temporary waiting tents for the railway bureau.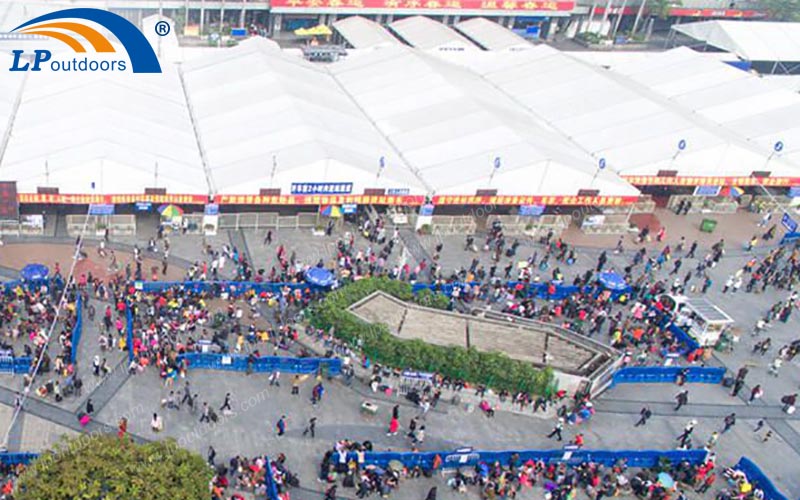 The top of the temporary ticketing tent is made of UV-blocking, fire-retardant and waterproof 850G PVC shade cloth, so that the tourists can avoid sunlight exposure and orderly queue up to purchase tickets. The utilization rate of temporary waiting tents is as high as 100%, which can not only reduce the pressure of waiting people inside the station, but also provide a convenient, safe and comfortable waiting environment for passengers to adjust to local conditions.

In addition, temporary tents are also suitable for various activities such as corporate annual meetings, concerts, and public welfare activities. LP temporary tent has a wealth of experience in the construction and construction of temporary tents and a professional construction team to provide you with a perfect temporary outdoor tent with professional, fast, accurate, reliable and personalized and attentive service.