Large Outdoor Aluminum Transparent Temporary Event Marquee Tent Can Hold All Kinds Of Party
Views:15 Author:LPOUTDOORS Publish Time: 2018-10-15 Origin:Site Inquire
Nowadays, outdoor activities tents with movable characteristic are the most widely used outdoor temporary tents. They are also an excellent temporary choice for cultural event, art exhibitions, promotion exhibitions and wine and food festivals.
As one of three party tent top brands in China, LPoutdoors offers a variety of tents for various activities. Outdoor tents are being watched and sought after by more and more customers.
The unique shape of the outdoor event tent can help you attract people's attention. According to the needs of the event venue, you can use the ground screw, ground nail and cement load-bearing plate. The outdoor activity tent can be selected from 3m to 50m in span size. The side height can be customized. It has the advantages of windproof, rainproof, UV protection and flame retardant.
In addition, the roof cover can be printed according to your needs, and the color also can be customized with the theme of the event. Optional accessories for outdoor activities tents include ABS walls, glass walls, transparent roof cover, clear windows, glass door, ceilings and air conditioners. In addition, we can also design personalized outdoor activities tents with different styles according to the different needs of the event, highlighting the brand charm and giving you a unique event experience.
LPoutdoors not only provides you with a full range of event tents, but also provides you with professional and effective solutions, whether it is the choice of the install area or the installation methods and disassembly ways. LPoutdoors will create the perfect space for you! Choose the LPoutdoor activity tent and choose the quality.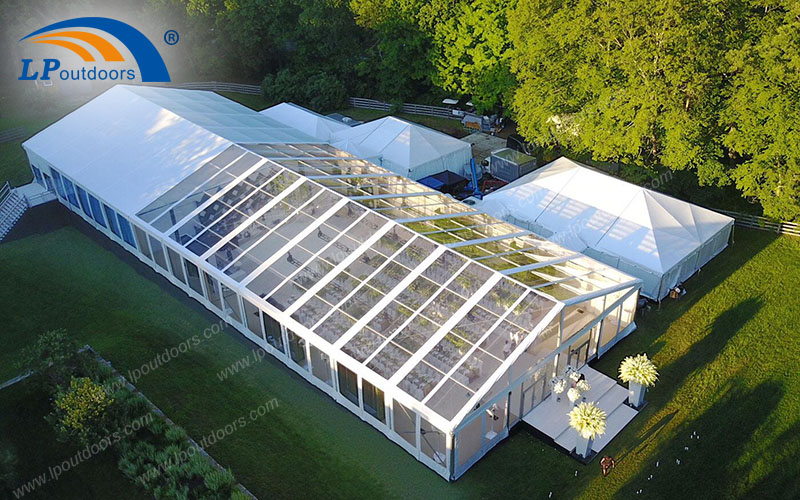 To view our impressive range of Large Outdoor Aluminum Transparent Temporary Event Marquee Tent, please click here
Take a look at examples of our work by clicking here
For a FREE initial consultation with our experienced catering and Large Outdoor Aluminum Transparent Temporary Event Marquee Tent team, please contact us by clicking here