Cassete Wood Floor System Used In The Aluminum Outdoor Wedding Party Tent
Views:29 Author:LPOUTDOORS Publish Time: 2018-10-11 Origin:Site Inquire
Each event will not only need a tent to solve all problems. Lighting, smallpox, tables and chairs and other accessories are all things that need to be carefully matched and selected to make a tent. Today, LPoutdoors introduce one of the important accessories - wood floor.
As an important part of the tent, the wooden floor can allow guests to dance on it. We need to ensure the smoothness and non-slip function of the wooden floor. The wooden floor of LPoutdoors and wooden floor of the market differ to lie in, our wooden floor passes our reform, became cassete type wooden floor. We should wood floor is very smooth, won't appear the phenomenon that become warped. The assembled wood flooring is easy to install and can be adjusted at will according to the size of the site. Although cassete wood floor should weigh a bit more than traditional wood floor, be in carry convenient possibly can cause a bit trouble. However, in the subsequent use process and the overall layout of the tent will be relatively beautiful and safe.
Our cassete wood floor, those who use is real wood and aluminum alloy, the fight corrode ability is stronger, and the bearing capacity of real wood is very outstanding, which can assure the security that use for a long time.
If you want to know more about our wood flooring, you can contact our customer service, we will provide you with the best service in the first time.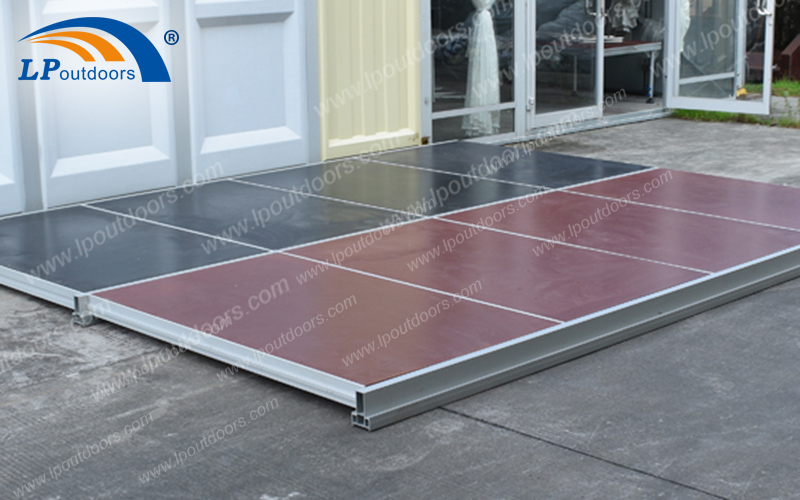 To view our impressive range of Cassete Wood Floor System Used In The Aluminum Outdoor Wedding Party Tent, please click here
Take a look at examples of our work by clicking here
For a FREE initial consultation with our experienced catering and Cassete Wood Floor System Used In The Aluminum Outdoor Wedding Party Tent team, please contact us by clicking here