Let Aluminum Outdoor Large Wedding Marquee Tent With White Lining Help You Dream Come
Views:30 Author:LPOUTDOORS Publish Time: 2018-11-09 Origin:Site Inquire
White has always been the wedding theme color, white is sacred and pure. LPOutdoors is not only a tent factory, but also a good helper in event planning. At the same time, the tents produced by LPOutdoors include activities, wedding celebrations, celebrations, advertisements and exhibitions, etc., which can meet your needs of various venues and meet your budget requirements.
Recently, the client in Australia consulted LPOutdoors and hoped that we could build a wedding activity place according to the requirements of their rented place.
After communication with customers and analysis of the site, LPOutdoors designed the tents.
The tent has a span of 40 meters, stands of 6061 high-strength aluminum alloy. As a result, the tent in the outdoor, both wind resistance and the ability to shade water is very excellent. In order to better create a dream wedding, LPOutdoors also configured European style smallpox to give the tent a more advanced texture. LPOutdoors offers a "one-stop "service with white tables, chairs and chandeliers in the tent, all accessories provided by us. Also, inside the tent, we have our aluminum wood floor for the central dance floor.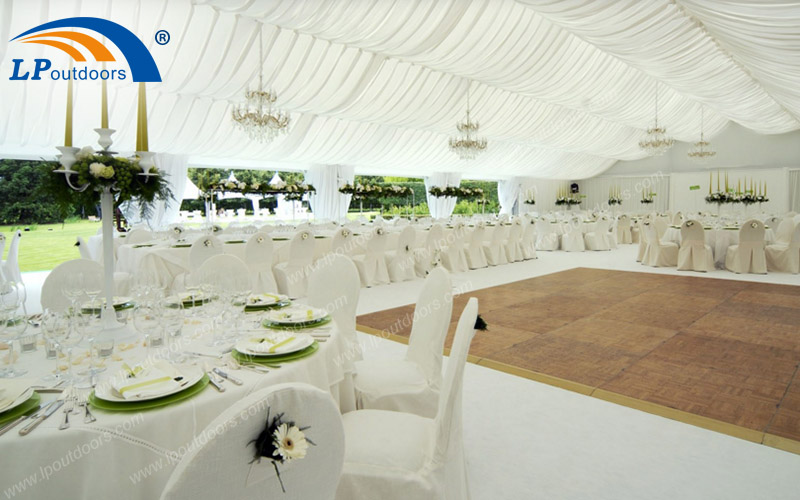 To view our impressive range of Aluminum Outdoor Large Wedding Marquee Tent With White Lining , please click here
Take a look at examples of our work by clicking here
For a FREE initial consultation with our experienced catering and Aluminum Outdoor Large Wedding Marquee Tent With White Lining team, please contact us by clicking here