LPoutdoor Make A New Style Gym Uesd Aluminum 25m Large Curved Sports Tent For Outdoor Event
Views:21 Author:LPOUTDOORS Publish Time: 2018-10-12 Origin:Site Inquire
In the summer, LPOutdoors recommended the outdoor swimming pool aluminum alloy large tent received very good feedback. This fall, our American clients are hoping to design a covered that is suitable for outdoor activities, but not subject to the weather.
The tent that serves as athletic activity must satisfy two requirements, the first is "firm" and the second is "capacious". LPOutdoors's tennis court sports activities large curve-shaped tent is able to meet these two requirements. 6061 high strength aluminum alloy as the material of bracket, next all fittings are hot galvanization, anticorrosion. Whether it is used outdoors for a long time or under bad weather, it can guarantee the security of the large curve-shaped tent for tennis court sports activities. Secondly, our large curve tent s for tennis court sports activities are all customized in size, which can be designed with the size of the guest's venue. The top height of curve shape is special because of radian, no matter be ball kind of sports activity, still be flat ground can satisfy one by one. At the same time, our PVC cover is shading and waterproof and your advertisement can be customized on it. As a place for renting or daily use, your products can be publicized.
The tennis court that serves as athletic place athletic field athletic activity large curve-shaped tent, still can match above harmonic ABS wall or vitreous wall inside, make interior space more comfortable. The specific design plan can contact our customer service; we will provide the best service for you in the first time.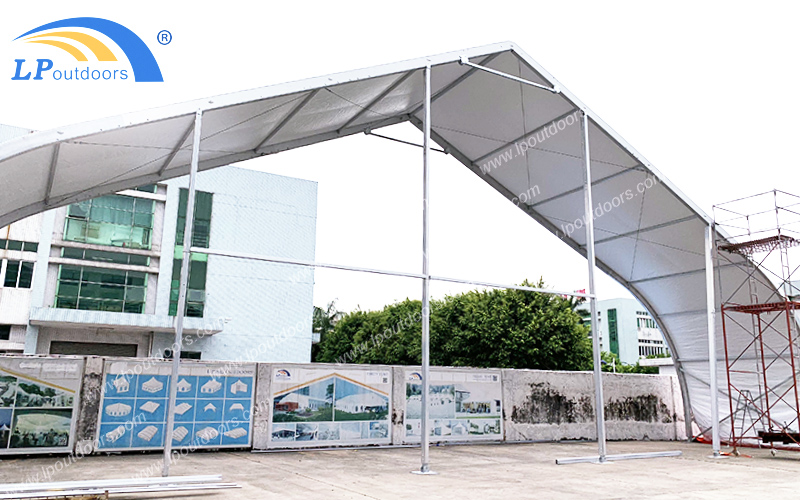 To view our impressive range of Aluminum 25m Large Curved Sports Tent For Outdoor Event, please click here
Take a look at examples of our work by clicking here
For a FREE initial consultation with our experienced catering and Aluminum 25m Large Curved Sports Tent For Outdoor Event team, please contact us by clicking here