Lpoutdoors Custom Large-Scale Exhibition Tents For Car Promotion
Views:19 Author:Site Editor Publish Time: 2018-05-23 Origin:Site Inquire
In recent years, LPoutdoors has provided custom-made solutions for large-scale car exhibition tents in several time for car exhibiton. From hundreds of square meters of brand event showrooms to thousands of square meters of outdoor large-scale exhibition halls. In order to fit the customer's actual needs better, our engineering team will communicate with the customer based on the disposables and make a variety of renderings for the customer to choose.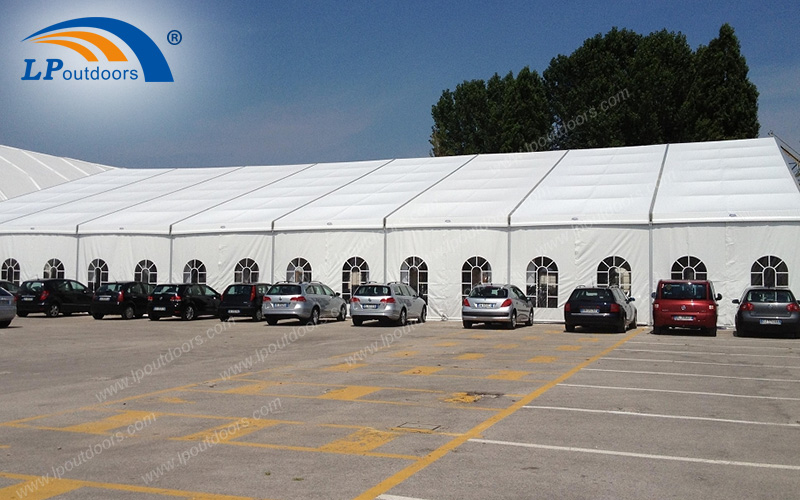 Recently, LPoutoodrs provided outdoor car show tent solutions for a large-scale automobile industry expo in Germany. In conjunction with the existing fixed pavilions at the venue, a series of mobile buildings were erected on the open space of the exhibition center . The eye-catching 30 m large car exhibition tents were highlighted. With a length of 100 meters, the scale of the venue is exactly comparable to the existing venue of the exhibition center.

In the space of more than 100,000 visitors, in addition to infrastructure facilities, 30 dedicated industrial air conditioners have ensured the air circulation within the exhibition area, and the space structure of the stadium has been designed according to the existing site requirements. In order to achieve seamless connection with the existing venues, we have established an L-shaped corridor connection zone, and directly enter the temporary exhibition hall from the exhibition center. In a true sense, we have taken advantage of the advantages of mobile construction: modularization, standardized production,fast set-up, reutilization, facilitate transport packaging.