LPoutdoors Design 10-Meter Span Aluminum Alloy Storage Tent For Custom-made
Views:19 Author:LPOUTDOORS Publish Time: 2018-08-24 Origin:Site Inquire
With long period and high cost, the traditional construction has made the enterprise warehouse expansion and construction face great challenges. Therefore, LPoutdoors customer chose to use the 10-meter span aluminum alloy storage tent to create a fast and efficient industrial storage space.

Cooperation project: The customer original storage space is difficult to meet the needs of current material storage. So LPoutdoors provides a 10*25 m, 3.5m side height with sandwich walls storage tent for him.

LPoutdoors provided the customer a 10-meter clear span storage tent. The overall area is about 250 square meters. The internal space can meet current storage needs. If it needs to be expanded in the future, it can increase the length and the cost is relatively low.

Moreover, the storage tents built for customer have been customized. It will use a sandwich walls that combines load-bearing, heat preservation, fire prevention and waterproof. This not only has better overall effect, but also has a more beautiful appearance. The materials stored inside the tent will be not affected by various weather. At the same time, we also customize the 3.5-meter non-standard edge height for the daily storage and use requirements. Creating the most suitable storage tent for customer according to the practical application.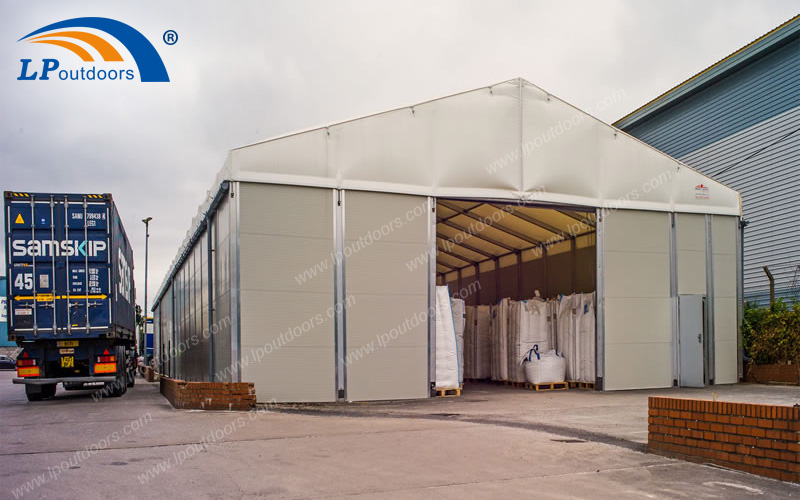 To view our impressive range of 10-meter span aluminum alloy storage tent, please click here

Take a look at examples of our work by clicking here

For a FREE initial consultation with our experienced catering and 10-meter span aluminum alloy storage tent team, please contact us by clicking here