LPOutdoors Held An Outdoor Event Display For Car Exhibition With Tent/Truss/Flag
Views:20 Author:LPOUTDOORS Publish Time: 2018-11-14 Origin:Site Inquire
LPOutdoors, as a factory with more than 10 years' experience in the production of tents can not only provide our guests with customized tents, flags, advertising display and truss products, but also be a good assistant in the planning of outdoor exhibition activities.
On Nov. 14, 2018, LPOutdoors planned an outdoor event display for a car show with a local event planning company.
According to the different demands of each stand, LPOutdoors has respectively introduced 6-meter party tent and 9-meter party tent to provide a wide space for the demonstration of large cars. Meanwhile, LPOutdoors is equipped with seats to allow guests to have a place to rest, which is more user-friendly. At the same time, in the outer space, LPOutdoors offers a 6x6 meter aluminum advertising folding tent, in which merchants promote automobile accessories. In addition, in the vicinity of each exhibition and sales tent, LPOutdoors has equipped the aluminum alloy customized advertising flag to make the commercial advertising everywhere. In the dining area, LPOutdoors provided us with a 4x12 meters aluminum alloy truss as the dining area, and it matched with our 850g suntan waterproof PVC. The dining area provides a comfortable environment for our guests, no matter what the weather.
As a professional outdoor demonstration and promotion factory, LPOutdoors can not only guarantee the performance of each product, but also provide the activity program according to the requirements of the venue and event organizer.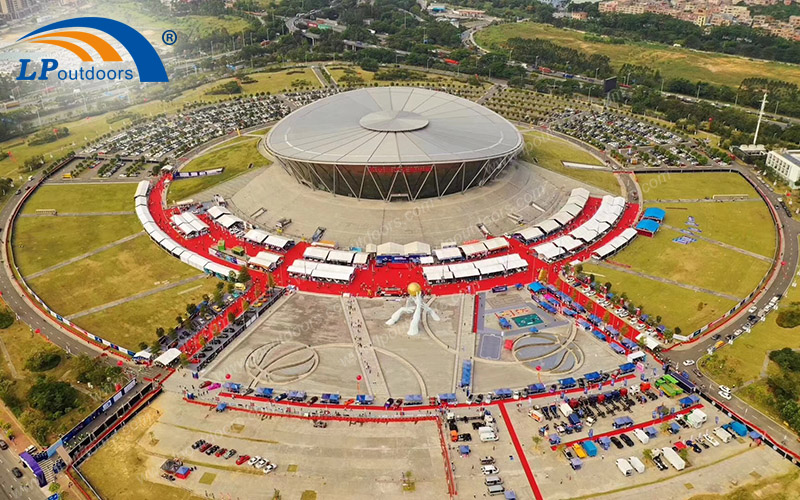 For a FREE initial consultation with our experienced catering and Events team, please contact us by clicking here