Industrial warehouse tent storage effect is not good?
Views:21 Author:Site Editor Publish Time: 2018-03-26 Origin:Site Inquire
At present, more and more manufacturing companies choose to build storage tents for use as a warehouse, although the cost of industrial storage tents is lower than that of traditional storage buildings.
And the construction speed is also very efficient, but the warehouse storage industry tents are not good?
Judging how the storage effect of the tent is mainly from the practicality of the warehouse of the tent and the overall consideration of the storage protection of the goods: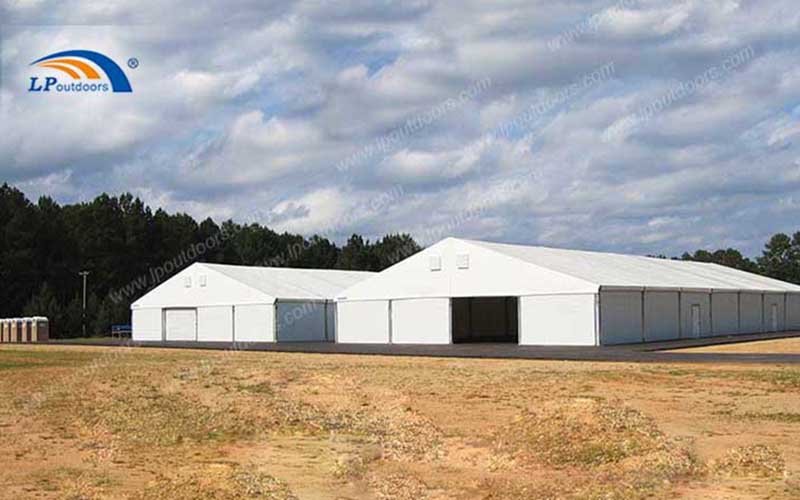 Daily using: Industrial storage tents currently have a lot of specifications, such as 50 meters, 60 meters, such as the big clear span specifications not only can easily create thousands of square to the storage of goods space, but also except the side of the height can be as 4 meters, also can be customized to a certain height to meet the entry of large goods, equipment or storage, meanwhile to meet the convenience of trucks transportation.

And the interior of the storage tent is without any center poles. The internal clean space can not only be used for planning and utilizing the warehouse more effectively, but also for the staff.The forklift and the forklift provide better walking and work environment!

Cargo protection: Liping storage tents are made of high-strength aluminum alloy frame, so they can resist strong wind in the outdoors, and the top of the tent is made of PVC coated fabric.

, With sunscreen, waterproof, flame-retardant, tear-resistant and other superior performance, can protect the goods from outdoor weather effects. And the top cover can also be used to lower the inflation setting with the effects of water, snow, and impact, the walls of tents are also available with ABS, sandwich, and other wall as options.

The interior can also be equipped with insulation and ventilation systems for internal goods.
For comprehensive security protection and a suitable storage environment!

From the perspective of comprehensive application, industrial storage tents are very good performance both in the storage of goods and in daily warehouse applications. The storage effect can be said to be not bad.
For more information,please visit our website:www.lpoutdoors.com