30x35m Outdoor Aluminum Wedding Marquee Tent For Event Let You Have It All
Views:23 Author:LPOUTDOORS Publish Time: 2018-10-10 Origin:Site Inquire
The venue for the wedding ceremony is changing all the time. If one venue is to be designed with a new tent, it is undoubtedly a great pressure on the organizer. This time, an Australian wedding company came to LPoutdoor for this reason, and negotiated with us on how to solve the solution of one tent to meet multiple wedding activities.
In order to achieve the purpose of "multiple use for one tent", LPoutdoor began to improve the technology of the tent and improve the supporting facilities of the assembled tent as early as 2016.We recommends tents for wedding companies in Australia. The tent spans up to 30 meters, and is basically stent-free to allow up to 100 percent space for the wedding. At the same time, the tent cover of this tent is made of 850g PVC, which can effectively protect against the sun during the day. In the evening, can effectively soundproof, let the wedding ceremony noise to disturb nearby people.

At the same time, the tent is made of 6061 aluminum alloy, which can guarantee the stability and security of the tent, so that you can safely hold any wedding activities. Our tent can also match a complete set of stage, lighting, table and chair wedding supplies according to your needs. And we recently improved the new version of the card floor, if you are interested in the tent accessories, also can contact our online customer service.
Finally, LPoutdoor also equipped the tent with European-style ceilings and transparent visual Windows, making the whole look more gorgeous.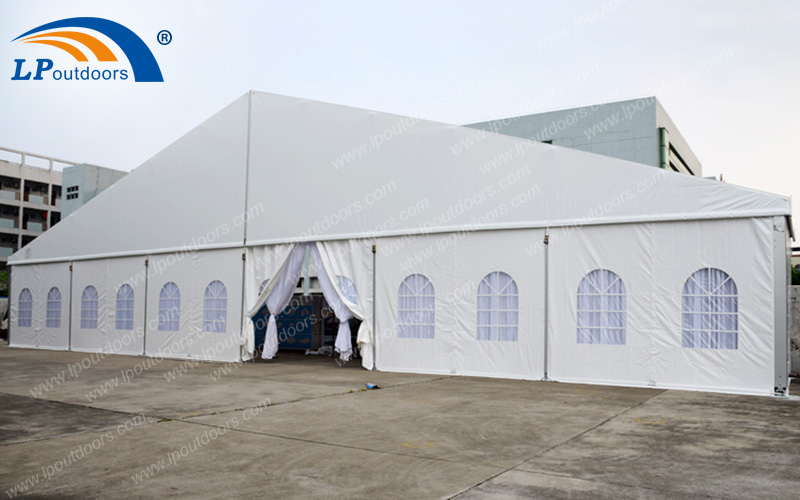 To view our impressive range of 30x35m Outdoor Aluminum Wedding Marquee Tent For Event, please click here
Take a look at examples of our work by clicking here
For a FREE initial consultation with our experienced catering and 30x35m Outdoor Aluminum Wedding Marquee Tent For Event team, please contact us by clicking here