20m Aluminum Outdoor Clear Roof Wedding Party Tent Give You A Romantic Outdoor Wedding
Views:97 Author:LPOUTDOORS Publish Time: 2018-12-21 Origin:Site Inquire
Outdoor wedding tents are not only original and romantic, but also more economical than holding weddings at hotels. This time Lpoutdoors provided two sets of 10x20m white and 6x15m transparent wedding tents for Samoan new married couples.
In foreign countries, outdoor weddings are quite popular. Every year Lpoutdoors exports many wedding tents to different regions of the world, Australia, Europe, Americas and so on. This time the wedding tent we exported to Samoa is according to customers' requirements. The tent frame is high-strength aluminum alloy. The roof is block out PVC and transparent PVC. In addition, we also have solid transparent glass walls and other optional materials. Customers can choose tent materials according to their needs.
In order to create a romantic and beautiful wedding, the wedding tent is not enough. Lpoutdoors also provide customers with carpet, lining and curtains, decoration, air conditioning and other perfect matching to make the wedding tent from a simple space to compare with a high-end hotel wedding space, which make an unforgettable wedding for young couples.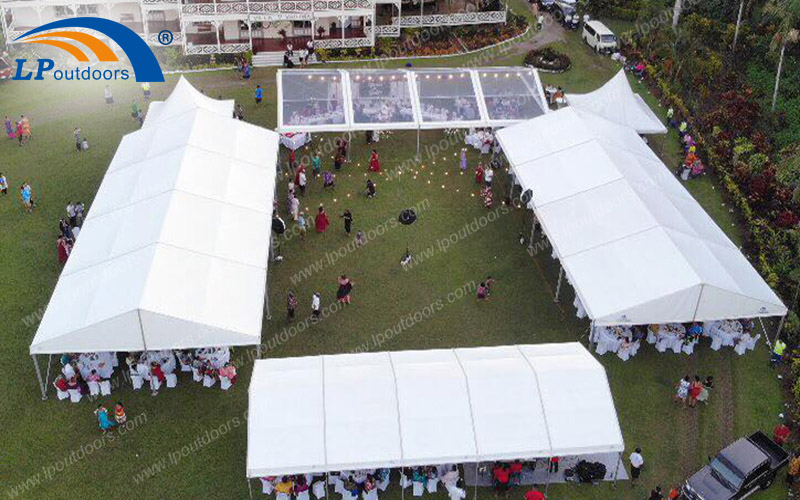 To view our impressive range of 20m Aluminum Outdoor Clear Roof Wedding Party Tent, please click here
Take a look at examples of our work by clicking here
For a FREE initial consultation with our experienced catering and 20m Aluminum Outdoor Clear Roof Wedding Party Tent team, please contact us by clicking here