10x20m Full Transparent Outdoor Party Tent Is A Good Choice For Manor
Views:21 Author:LPOUTDOORS Publish Time: 2018-08-04 Origin:Site Inquire
Many people have a large outdoor manor. But many people prefer to be indoors because of the bad environment outside. LPoutdoors 10x20m full transparent outdoor tent can solve this problem and make outdoor activities possible. Our Australian client needs to set up an activity and leisure space in his manor, LPoutdoors provides a 10x20m full transparent outdoor tent.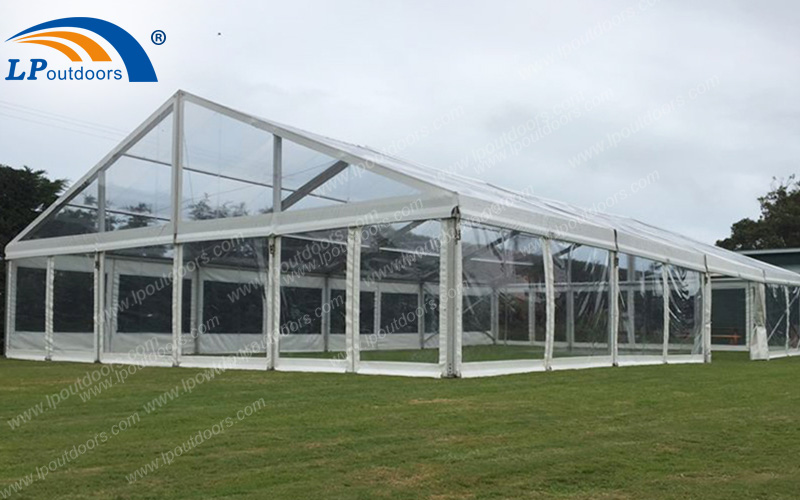 Because the 10x20m full transparent outdoor tent is to be placed in the manor for a long time, the outdoor suburbs has strong wind, so according to the customer's demand for the tent, we use High-strength, non-corrosive aluminum alloy profiles (material 6061/T6, oxide film thickness ≥10μm) for the frame, and joints parts are also made of high-quality hot-dip galvanized anti-rust steel parts, ensuring that the 10x20m full transparent outdoor tent can resist wind and rain and maintain a long service life even in ourtoods.

At the same time, the transparent tent has better viewing in the outdoors, especially in the evening, it can bring a better atmosphere for the party activities, and the transparent cover also can resist to wind, water and flame. The performance of the cloth can be said to be both practical and aesthetic. Therefore,besides banquets, parties and other activities, it is also very suitable for commercial activities.