1000 Seater Luxury Transparent Outdoor Wedding Tent With Marquee Lining Can Bring You A Dream Wedding
Views:34 Author:Site Editor Publish Time: 2018-10-31 Origin:Site Inquire
Make sure the bridal couples have an unforgettable day that is our mission! And that is a real challenge. Because you're wedding day is the best day of your life. If details are always of the highest importance, then this goes double for weddings! We are always searching for a unique luxury and elegant tent for a wonderful wedding.
First, as the design of the tent became more rigorous, the technology improved. The stability and wind resistance of aluminum alloy supports cannot be compared with each other. Secondly, the cover of the tent adopts high-quality material of 840D PVC anti-blade scraping, which is highly waterproof. Meanwhile, based on more than 10 years' experience, LPoutdoors adjusted the tents according to local conditions to meet customers' site requirements.
How could the tent for a wedding? LPoutdoors is happy to provide a total package, whereby ensuring that nobody worries is the main idea! All parts are meticulously put together by us,, possibly in cooperation with a wedding planner, to form a perfect whole.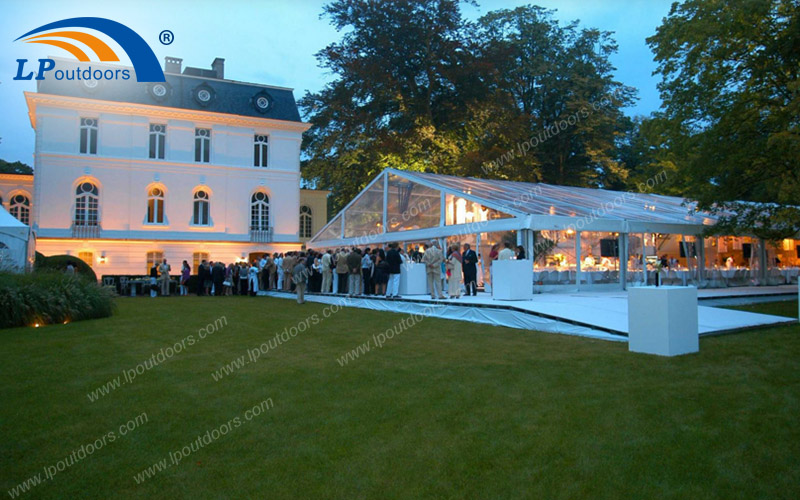 To view our impressive range of 1000 Seater Luxury Transparent Outdoor Wedding Tent With Marquee Lining , please click here
Take a look at examples of our work by clicking here
For a FREE initial consultation with our experienced catering and 1000 Seater Luxury Transparent Outdoor Wedding Tent With Marquee Lining team, please contact us by clicking here