Aluminum Outdoor Large Beach Party Tent With Glass Wall Is Suitable For Club Event
Views:25 Author:东莞丽平实业有限公司 Publish Time: 2018-10-24 Origin:Site Inquire
Many umbrellas can be seen everywhere on the beach. But tents are rare. This is because many people find it very difficult to secure a tent on the beach, and it is difficult to ensure that the strong wind can be sustained at the beach. But, in fact, these are people's misconceptions about tents. LPoudtoors has written an article about how to install a tent. If you are interested, please check here.
Are you worried about if the tent can install on the beach? As it has big wind there with soft sand. The tent used glass wall, which is more beautiful than ABS wall, and gives you a view of the beach inside. At the same time, the glass wall of strong resistance to wind, and can also prevent rain, resolving customer concerns.
Of course we can do that, below is our marquee tent for beach club for you reference, it is much stronger and no any damaged.
How can we fix this installation issue? To fix tent on the beach, we can use cement block to press on the plate of each pillars, the cement size about 100x100cm.
Our marquee tent can install on grass land, soft sand, concrete etc different ground, Also we can provide you professional team solution.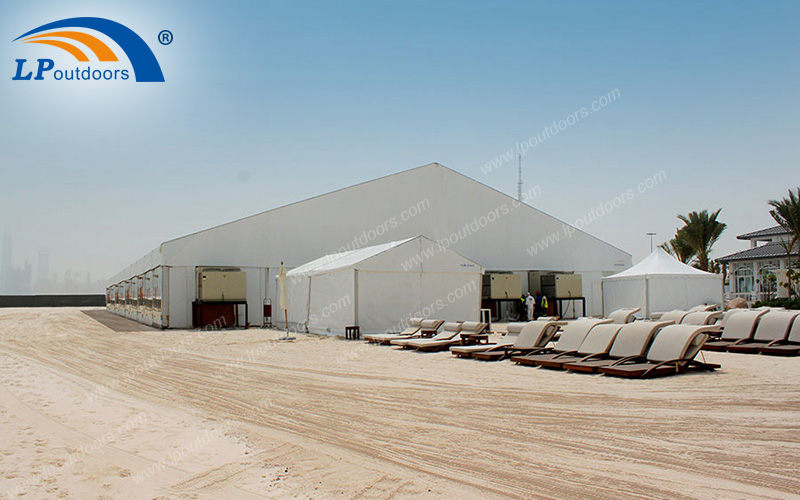 To view our impressive range of Aluminum Outdoor Large Beach Party Tent With Glass Wall For Club Event , please click here
Take a look at examples of our work by clicking here
For a FREE initial consultation with our experienced catering and Aluminum Outdoor Large Beach Party Tent With Glass Wall For Club Event team, please contact us by clicking here