What's The Advantage Of Clear Roof Transparent Wedding Tent For Event
Views:24 Author:LPOUTDOORS Publish Time: 2018-08-08 Origin:Site Inquire
Recently, Lpoutdoors has built a large wedding tent on the romantic seaside for outdoor temporary places. With its elegant temperament and unique appearance, it has become a focus on the beach.

The large wedding tent is specially designed for customers. To solve rusted problem in the local environment. The whole structure is aluminum alloy frame. The aluminum material is oxidized by the surface. All accessories are stainless steel 304, corrosion resistance and durability is very good and the service life can be as long as 5 years.

Because this large wedding tent is built on seaside, in order not to waste this fairyland-like beauty, and let the indoor 360° view without a dead end. LPoutdoors used full transparent and waterproof PVC for cover and glass walls.

There is no need for lighting during the day, the sun shines on the wooden floor, and the interior is bright and transparent, just like being inside of nature, comfortable and pleasant.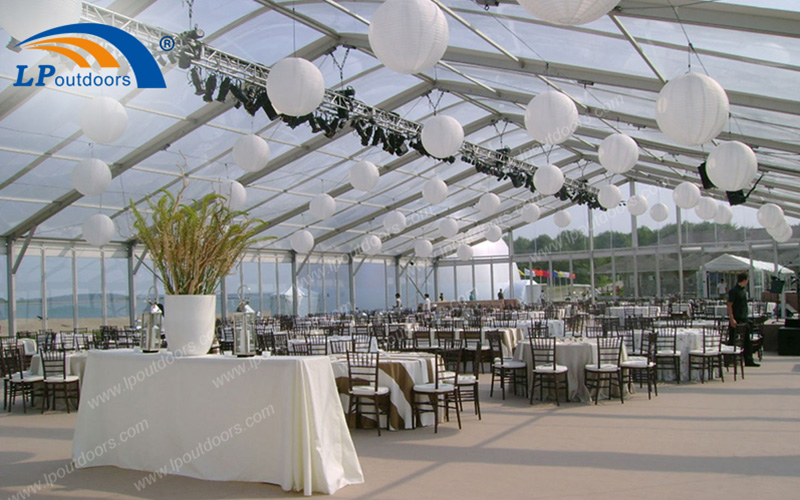 LPoutdoors large wedding tent building overview and advantages

Built on the seaside, the scenery is beautiful and the view is wide;


The scaffolding platform system is adopted to solve the construction problems caused by the unevenness,and high drop of the sea floor;


The aluminum alloy frame guarantees long-term beauty and practicality;


Fully transparent walls, full transparent PVC covers, good lighting, 360° no blind area.